Repairs
Have you ever called a serviceman, and when he showed up he started trying to convince you that you need to buy a new unit? Well, our approach is different. We start any service call by diagnosing your system, finding the weakest link in the system, and then offering you options prior to proceeding with the repair. Our repair philosophy is based on fix first, replace only if necessary.
Most of our repairs are billed on a flat-rate basis, but we are often asked about our hourly rates.
Service diagnosis fee and hourly service rate is $100

Pool equipment repairs or replacements usually require diagnosis and/or site visit and are preceded by quote

Weekly or daily service rates vary by pool/property and are provided by quote
Need a new pool pump? or a new heater? or a new salt cel? We can replace and install any component of your pool equipment...or just fix what you have. In some cases, newer, more energy efficient pumps and heaters may significantly reduce the cost to operate your pool. Our motto of "fix first, replace last" means that we won't try to sell you a new piece of equipment unless it is the absolute best option.
Regular Pool Maintenance—Complete Pool Care
Have more important things to do with your time than check pH, clean filters, brush your pool? Let us do the dirty work so you can just enjoy your pool or spa. Take your hands off your pool if you want to. We can take over the regular testing, maintenance, and cleaning so that you don't have to.
Pool Opening
Open your pool as early or as late in the year as you like. Just give us a call when you are ready. In some cases, it may be beneficial to attempt to open the pool earlier than you think. For example, if the heater had problems last season, call us as soon as you can so we can address it sooner than later. Its no fun trying to get your pool heater to work the day before Memorial Day.
Pool Winterizing
Make sure your pool is properly shut down for the season. Our winterizing process involves chemically balancing the water, treating and securing the winter cover, cleaning the filter(s), draining the equipment, and blowing out the suction and return plumbing lines. Depending on the design of your pool, it may or may not be necessary to pressurize the plumbing lines. In some rare cases, like this one (pictured to the left) it may be better to simply circulate the pool throughout the winter.
Pool Remodels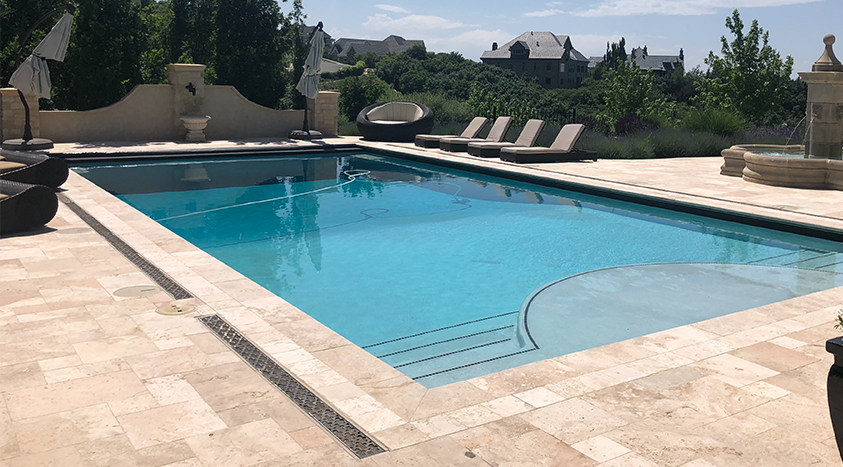 The most common type of remodeling in Utah usually has to do with either the pool tile, the pool's coping, or the pool plaster. Or in many cases, all three.
Because of Utah's unique freeze/thaw cycles, ice can cause movement and shifting between these surfaces. In some cases, trying to chip out and repair this type of damage, can be like trying to fix a dented fender on a car, when in fact its frame is damaged. Have a pool that is "outside the box?" We know pools come in different shapes and sizes. Not just rectangles. So if you need help making your pool look new again, and it has an abnormal shape, give us a call.
Daily CPO Service / HOA & Community Pool Solutions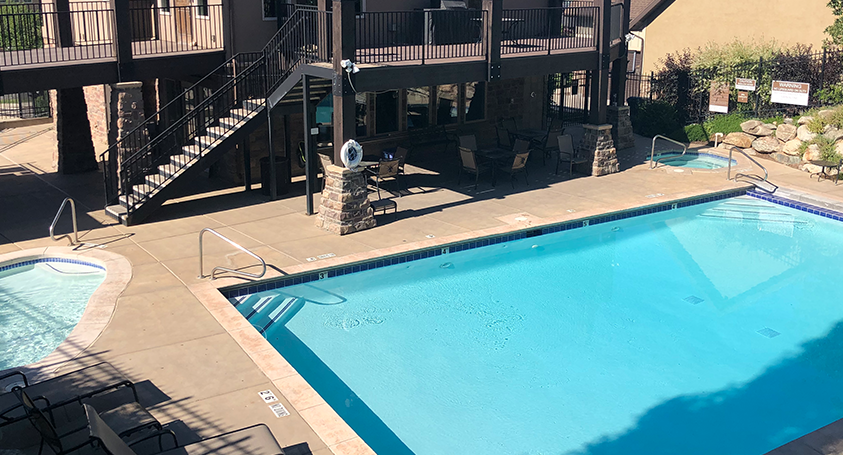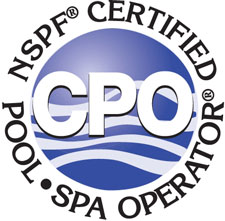 HOA boards, neighborhood communities, property management companies, and large pool facilities use us for some or all of their pool & spa maintenance and repairs. If you need help with a pool at one or more of your properties, call us. The Health Department is our friend. Sounds weird...but our relationship with pool inspectors is healthy and symbiotic. We rely on them, and they rely on us.
All of our pool professionals are CPO certified and have a background with water chemistry, so they can show up to your property with confidence, and more importantly, keep things running properly, especially around summer holidays.
Most health departments are now providing a "pre-inspection" of the pool and related facilities. If your pool and facility is in need of several compliance updates, this is a great way to get ahead of things prior to the pool season. As part of our service, we will meet with the inspector and walk through with them, so nothing is lost in translation. In many cases, this allows you, us, and the health department to create a reasonable plan of action for the pool season, instead of waiting until the week of Memorial Day, and trying to cram everything in at once.
Pool & Spa Automation
These days, you can be as "hands off" of your pool as you like. Or "hands on" if you consider holding all your pool equipment in the palm of your hand. Smart pool pumps, remotely programmable timers, smartphone controls, and automatic chemical dosing systems continue to evolve into more compact and more efficient tools for maintaining the perfect pool.
Intelligent Pumps
Adding a variable frequency drive (VFD) pump to your pool is like installing an automatic dimmer switch to your pool system. VFDs ramp up RPMs slowly for an efficient start, and self adjust based on turnover rates and friction loss. So you can set it to automatically keep up with your swimmers, even if the filter pressure goes up.
Smartphone Pool Control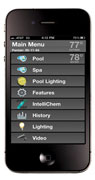 Several manufacturers now offer intuitive interfaces to interact with your pool via your tablet, laptop, or smartphone. Chances are, the pool equipment you already have can be upgraded to include smartphone control. Control the lighting, chemicals and temperature from anywhere. On your way home from the ski slopes or from mountain biking? Simply adjust the pool or spa temperature on your phone so everything is waiting for you when you get there.



Chemical Automation
Nobody said you needed a degree in biochemistry in order to understand the relationship between chlorine and pH. With simple to use controls, you can automatically test and automatically add chemicals to your pool...and not worry about all the other products you have been told you need. Not all chemical controllers work for every pool application. So while an acid feed system may be needed on your salt water pool, your neighbor may only need a chlorine tablet feeder.